A WolfQuest account is a requirement to be able to play the game online. While it is not required to play the game offline, it is a requirement for earning achievements.
Registration
To register, the player must own the full version of the game. This feature is not supported in the free trial.
Any player who has created an account must first verify their registration before they may login to and access it or play multiplayer.[1]
In addition to accessing multiplayer and gaining access to the achievements feature, an activated WolfQuest game account allows players to utilise the friends list, send and receive messages and create or join packs.
Messaging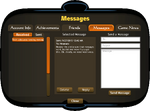 Players can send each other messages, either individually under the 'Messages' tab, or via any joined or owned packs under the 'Friends' tab, which will broadcast the message to all current members.
Trivia
Without an account, multiplayer is completely inaccessible and achievements can never be earned. The same applies to the Steam version.
The friends system is far more effective than the friends and foes system available on the community forums.
Accounts for this version are not tied to the community forums; players wishing to participate on the forum will need to have an existing 2.5 account, or else create a new account via the WolfQuest website.[2]
This system is powered by Combu.
References
↑

This is due to the team's decision to start 2.7 off with a clean slate as opposed to using the existing (and ever-increasing) user database of over 800,000 members. Players wishing to utilise the forums must register or login to an existing account in order to post new topics, participate in existing discussions, or send/receive private messages on the website.
Ad blocker interference detected!
Wikia is a free-to-use site that makes money from advertising. We have a modified experience for viewers using ad blockers

Wikia is not accessible if you've made further modifications. Remove the custom ad blocker rule(s) and the page will load as expected.