Attention: The WolfQuest Wiki is not the place to submit reports for bugs and glitches.
For errors relating to the game, see Bugs and Glitches/Errors.
For exploitable or abused bugs and glitches, see Cheats.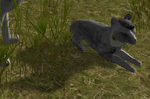 Bugs
and
glitches
are unintentional flaws with the game, ranging from graphical errors to problems with actual game scripts, which includes but is not limited to NPC behaviors and event triggers. While the game
is
tested by the
WolfQuest Team
and a select few
volunteer members
of the community, not all issues are caught and fixed in time for the final
build
.
Players
are encouraged to submit a detailed bug report to the developers if they encounter any issues with the game.
Discussion
Players can discuss (but not report) their findings on the community forums in this topic by wolf567.
On the Wiki, contributors are welcome to post their findings in a third-person perspective on the Bugs and Glitches board, tagging this article to display the topic as a discussion. Alternatively, click the 'Start a discussion' button at the bottom of the page. We do not encourage sharing anything that has not yet been fixed in the current release -- 2.5.1 is the only exempt version.
Reporting
To report an issue, players are required to send the team an e-mail following the steps provided in the following topic-

The official topics posted in the WolfQuest FAQ by Cana and Dave, respectively-
Trivia
References
Ad blocker interference detected!
Wikia is a free-to-use site that makes money from advertising. We have a modified experience for viewers using ad blockers

Wikia is not accessible if you've made further modifications. Remove the custom ad blocker rule(s) and the page will load as expected.