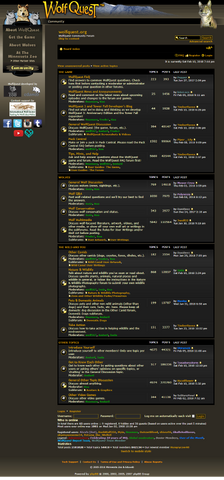 Ideally, a new screenshot should be captured and a new revision uploaded within every 4-6 months.
Appears on these pages

of
The WolfQuest Community Forum is an official resource that is currently operated by Eduweb as of...
File history
Click on a date/time to view the file as it appeared at that time.
Date/Time
Thumbnail
Dimensions
User
Comment
current
01:19, February 11, 2018
1,021 × 2,186

(479 KB)

Nightangelwolf (wall | contribs)
10-Feb-2018
23:25, November 3, 2017
1,004 × 2,216

(477 KB)

Nightangelwolf (wall | contribs)
3-nov-2017
00:40, July 15, 2017
1,001 × 2,214

(474 KB)

Nightangelwolf (wall | contribs)
As of July 15th 2017.
23:47, December 25, 2016
1,039 × 2,089

(567 KB)

Nightangelwolf (wall | contribs)
As of 25 December 2016
18:34, February 22, 2016
1,018 × 2,092

(445 KB)

Nightangelwolf (wall | contribs)
As of February 22nd 2016.
01:43, September 23, 2015
1,035 × 2,160

(455 KB)

Nightangelwolf (wall | contribs)
As of 22 September 2015.
03:57, May 16, 2015
1,092 × 2,131

(444 KB)

Nightangelwolf (wall | contribs)
As of 16 May 2015.
03:57, May 16, 2015
985 × 2,247

(443 KB)

Nightangelwolf (wall | contribs)
As of 1 April 2015.
15:34, February 1, 2015
1,015 × 2,172

(434 KB)

Nightangelwolf (wall | contribs)
As of 1 February 2015.
10:48, January 12, 2015
1,653 × 1,871

(458 KB)

Nightangelwolf (wall | contribs)
As of January 12th 2015
02:05, January 11, 2015
1,119 × 2,090

(446 KB)

Nightangelwolf (wall | contribs)
As of January 10 2015
19:57, October 3, 2014
1,570 × 1,871

(454 KB)

Nightangelwolf (wall | contribs)
As of October 3rd 2014
00:20, July 24, 2014
1,280 × 2,008

(469 KB)

Nightangelwolf (wall | contribs)
As of July 24th 2014
11:50, May 21, 2014
1,024 × 2,249

(452 KB)

Nightangelwolf (wall | contribs)
As of May 21st 2014
10:33, January 19, 2014
1,280 × 1,971

(417 KB)

Nightangelwolf (wall | contribs)
As of January 19th 2014
21:58, May 14, 2013
1,280 × 1,999

(440 KB)

Nightangelwolf (wall | contribs)
21:45, May 14, 2013
1,280 × 1,971

(428 KB)

Nightangelwolf (wall | contribs)
As of 7 January 2013
21:41, May 14, 2013
1,280 × 2,103

(424 KB)

Nightangelwolf (wall | contribs)
As of 11 December 2012