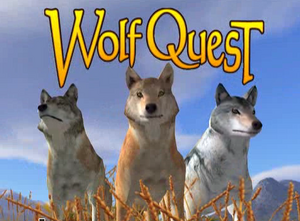 WolfQuest Wiki
New pages
Welcome to the WolfQuest Wikipedia!
We currently have 16 active users and 14,716 edits on this Wiki. Learn more about the WolfQuest game, developed and published between Eduweb and Minnesota Zoo.
Looking for the installer? Get the game!
Looking for games based on WolfQuest created by its player base? Check here.
What is WolfQuest?
"
WolfQuest is an immersive, 3D wildlife simulation game that lets players learn about wolf ecology by living the life of a wild wolf in Yellowstone National Park. Players play alone or with up to four friends in on-line multiplayer games. In Episode 1: Amethyst Mountain, players explore the wilderness, hunt elk, and encounter stranger wolves in a quest to find a mate. Episode 2: Slough Creek challenges players to find a den, establish a territory, raise pups and defend them from predators such as coyotes, grizzly bears and other stranger wolves.

Since its launch in late 2007, WolfQuest has received a number of awards including an Education Award from the Association of Zoos and Aquariums, a MUSE Award from the American Association of Museums, and the Editor's Choice Award by Children's Technology Review. It was also selected by the National Science Foundation to present at the 2009 Senate Education Technology Showcase in Washington D.C. WolfQuest has been downloaded by well over 500,000 people in over 200 countries. The online community forum currently has 300,000 registered users who have made over 1.5 million posts.

In 2009, a comprehensive summative evaluation run by the Institute for Learning Innovation showed that player interest in, connection to, and knowledge about wolves increased significantly after playing WolfQuest. Throughout the evaluation, WolfQuest was shown to be highly effective in achieving its goals and providing a rich and rewarding learning experience for the players. The Minnesota Zoo leads a national network of zoos and science education centers that promote WolfQuest through their websites including the International Wolf Center in Ely, Minnesota, Yellowstone National Park, Smithsonian National Zoological Park, Washington, D.C. Lincoln Park Zoo in Chicago, the Toronto Zoo, the California Wolf Center, the Knoxville Zoo, the Rosamond Gifford Park Zoo in New York, the Phoenix Zoo and the Wild Canid Survival and Research Center in Missouri.

WolfQuest is made possible through grants from the National Science Foundation (NSF) with local support provided by Best Buy Children's Foundation, the Shakopee Mdewakanton Sioux Community and the ADC Foundation.

"
Community
Main article: WolfQuest Community
WolfQuest offers an inviting and open community forum, where registered users can ask questions about and discuss wolves, the game, take part in various other activities and submit canid literature and artwork. The forums are maintained daily by a dedicated and friendly team of moderators and administrators.
Game Status
The game was originally funded by grants from the National Science Foundation, Best Buy, and other foundations and donors and distributed as a free download for Mac and Windows computer. Funding ended in 2011 and the game ceased active development, though it remained available for download, and the Community Forum remained active.
In November 2015, Eduweb released a WolfQuest 2.7, an improved and expanded version of the game for purchase. While the old, free version of the game remains available, development efforts are now focused on WolfQuest 2.7. This version is currently available for Mac and Windows computers, and (since September 2016) for iOS, Android, and Kindle mobile devices.
Wiki Activity
Poll
References & External Links
Ad blocker interference detected!
Wikia is a free-to-use site that makes money from advertising. We have a modified experience for viewers using ad blockers

Wikia is not accessible if you've made further modifications. Remove the custom ad blocker rule(s) and the page will load as expected.