Resting and sleeping were introduced in the Deluxe edition of Survival of the Pack.[1] The feature was a winning entry for the new ideas contest as decided by the community in a poll run by the WolfQuest Team.[2]
Resting options allow players to recover lost stamina from running, jumping and swimming at a much faster rate than idling and may be performed in any map.
Resting
Resting is triggered by pressing the R key, allowing players to regain stamina that has been lost by running, jumping and swimming at an increased rate than would be recovered by idling. The ability can be triggered in both single player and multiplayer modes of gameplay.
Pressing the rest key once will make the player's wolf sit and loop the regular sitting animation, albeit without the cleaning segment. Pressing it again will make him/her lay down[3].
Sleeping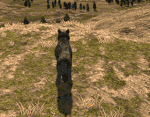 Sleeping is triggered by pressing the
Z
key. In doing so, the player can choose to advance the time of day via a dialogue box shown in the top-right corner of the game screen.
In multiplayer, only the host may change the time of day. Participants will only perform the laying down animation when the sleep key is pressed. In the past, time of day selection could only be performed once per game during the process of setting up a new multiplayer session.
Trivia
Resting seems to restore more stamina than sleeping.[citation needed]
References
↑ The contest entry topic: wolfquet.org • The Big Ideas poll for the WolfQuest 2.5 Design Contest. The winning entries: wolfquest.org • The results for the 2.5 Design Contest are in!